Yet again, Singapore attempting to HANG another Malaysian - a 'drug mule'...and one wonders whether this new Pakatan Harapan government will fare better and save a man's life...
Pannir Selvam Pranthaman may be hanged to death on 24/5/2019(Friday). The Court of Appeal today will be hearing a final stay application...
Will Singapore's President Halimah heed the pleas...request of neighbor Malaysia, a fellow member of ASEAN, and commute the sentence to life imprisonment..?
Why is Anwar Ibrahim or PKR leadership silent? Are they not bothered about the life of this Malaysian? What about DAP? Amanah? Bersatu? PAS?
Does the ethnicity/religion has any consideration when it comes to a political party's response? We all know that both PAS and even UMNO was very active when it came to saving the life of one

Umi Azlim Mohamad Lazim,

who was a young Malay woman sentenced to death in China for drug trafficking.

Umi Azlim Mohamad Lazim, 24, a university science graduate from a poor Malay family of rice farmers, admitted to having 2.9 kilograms in her luggage when she was arrested at Shantou airport...
ASIAONE / NEWS / THE STRAITS TIMES / STORY

Political parties vie to help drug trafficker

Fri, Dec 14, 2007

The Straits Times

KUALA LUMPUR - THE fate of a young Malay woman, who has been sentenced to death by a court in China for smuggling heroin, is causing concern among rival political parties in her home state of Kelantan in Malaysia, with the parties competing to come to her aid.




Umi Azlim Lazim, a 24-year-old Universiti Malaysia Sabah honours graduate, was sentenced to death in May, after she pleaded guilty to trafficking 2.9kg of heroin into Shantou in China's Guangdong province.




Her case hit the headlines in Malaysia last week. On Dec 8, The Star newspaper reported that her family, accompanied by a state government officer, was flying to Guangdong.




Umi's father, Mr Mohamad Lazim, 50, is a car mechanic and her mother Umi Slaia Ibrahim, 45, is a pisang goreng (banana fritters) seller.




Mr Mohamad Lazim told The Star on Saturday that the opposition Parti Islam SeMalaysia (PAS), which rules in Kelantan state, was footing the bill for the trip.




PAS was also raising funds for Umi.




In a report yesterday, PAS deputy president Nasaruddin Mat Isa told Hong Kong's South China Morning Post newspaper that the party was raising funds for the parents to visit Umi and to hire a Chinese lawyer to mount an appeal.




'We want the case reviewed,' he said.




The family has two years - from the time of the sentence in May - to appeal against the death penalty.




Umno, the main party of the ruling federal coalition, also wants to chip in.




The party's Pasir Puteh division head Kamaruddin Mohd Noor had announced the start of a fund to engage a 'top-notch' lawyer in either Malaysia or China.




'We are concerned for any Malaysian citizen facing the gallows abroad,' he said.




However, last week, Deputy Prime Minister Najib Tun Razak said that the Malaysian government could not do much other than ensure that drug offenders abroad received a fair trial.




'We have laws in our country too. You know that if you traffic in drugs, you face the possibility of being sent to the gallows. It is difficult for us to do anything for them other than ensure that the legal process is a just one,' he said.




Under Malaysia's tough anti-drug laws, offenders can be hanged for trafficking 15g or more of heroin.




Umi was employed by a Kuala Lumpur-based firm to market foot massaging equipment and was on a sales and marketing trip in January when she was found with the drugs in Shantou airport. She was then arrested.




Law Minister Nazri Aziz had suggested that she might have been an unwitting accomplice in a drug smuggling operation.




'No young Malay woman, a graduate and employed, had been involved in trafficking. But recently, such incidents are surfacing because they are tricked by syndicates,' Datuk Seri Nazri was quoted as saying by the South China Morning Post.




'We are worried; we are studying the implications.'




His views were shared by Mr Bakri Zininas, director of Malaysia's Narcotics Department, who told The Star newspaper on Monday that Umi and others could have been used as drug mules by international syndicates.




'They were either tricked or they knew what they were doing,' he said, adding that 32 Malaysian women were in jails in China, Japan, Brazil and Chile for trafficking. 'Some have been sentenced, while others are awaiting trial.'



Hopefully, ethnicity and religion does not determine how we response to Human Rights violations and Injustices - who the victims are or who the perpetrators are should never matter - our struggle is and must be for Human rights - and, here is for the LIFE of
Pannir Selvam Pranthaman. Punish him but do not KILL him...
Saifuddin: Govt looking for ways to help Malaysian scheduled to hang in Singapore for drug trafficking
Nation
Tuesday, 21 May 2019 10:03 PM MYT
KLUANG (Bernama): The government is seeking ways to help a Malaysian who is scheduled to be hanged in Singapore on Friday (May 24) for drug trafficking, says Foreign Minister Datuk Saifuddin Abdullah.
He said Minister in the Prime Minister's Department Datuk Liew Vui Keong was making the efforts to try and save Pannir Selvam Pranthaman from the hangman's noose.
"Just now I discussed it with Liew and he is working on behalf of Putrajaya to try and convince the Singapore government to spare him the death penalty," he told reporters at a Ramadan programme in Kampung Tengah here Tuesday (May 21).
He was asked to comment on an appeal by Pannir's family seeking the government's intervention because Pannir had allegedly not been given enough opportunity to apply for clemency under the republic's laws.
Saifuddin said in similar cases in the past, the government had also taken the same approach of trying to get a lighter sentence for those sentenced to death.
This is in line with Malaysia's move to place a moratorium on the mandatory death sentence.
Asked how Putrajaya could resolve the issue of allegedly short notice for carrying out the death sentence, he said there was nothing much the Malaysian government could do.
"This is the way Singapore administers its law. There is not much room for us to complain but normally what we do is we will try our best to help our people," he said.
Tuesday, Pannir's family, through human rights group Lawyers for Liberty, turned to Putrajaya as their last hope to save him from the death penalty.
This followed their unsuccessful attempts to save Pannir, which included sending the final appeal to Singapore President Halimah Yacob.
Pannir, 32, was convicted of the offence by the Singapore High Court on June 27, 2017. - Bernama -
Star, 21/5/2019
S'pore court to hear M'sian's application for stay of execution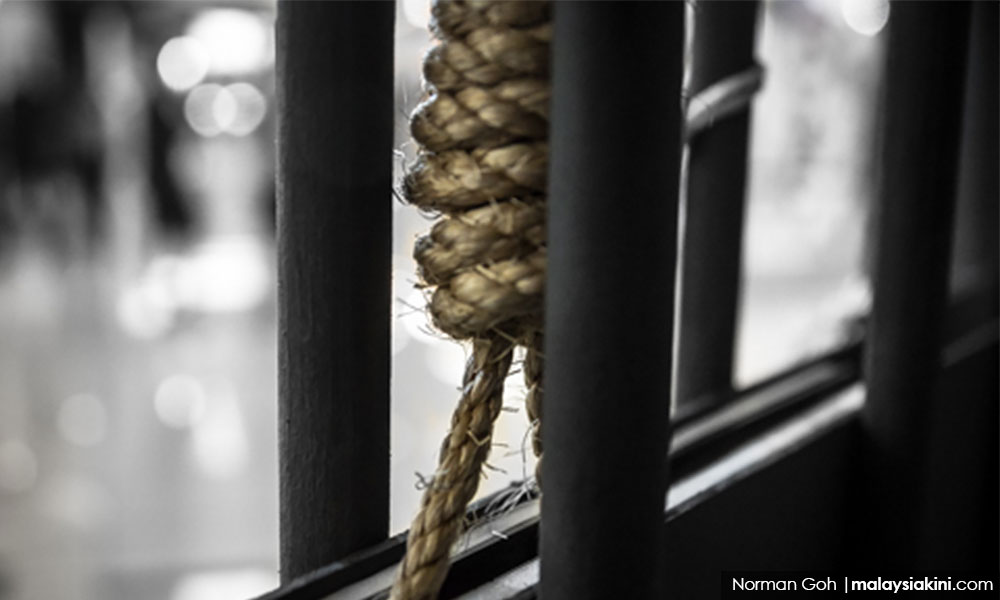 The Singapore Court of Appeal will hear tomorrow the application by Malaysian P Pannir Selvam to stay his
execution
scheduled for Friday, May 24.
"This application was filed by Pannir himself from prison," Lawyers for Liberty adviser N Surendran said in a statement today.
Pannir had also submitted a final appeal for clemency to Singapore President Halimah Yacob.
He was convicted on June 27, 2017 by the Singapore High Court of trafficking 51.84g of diamorphine at Woodlands Checkpoint on Sept 3, 2014.
Drug mule's family make final appeal to Singapore president, urge Putrajaya to intervene
KUALA LUMPUR, May 21 — The family of P. Pannir Selvam, a Malaysian convict who is facing the hangman's noose in three days in Singapore, have made a last-ditch appeal to the island nation's president Halimah Yacob and the Malaysian government to intervene.
In a press statement today Pannir's sister, P. Sangkari said the notice of execution which they received last week came as a "shock" since it was dated on the same day that Halimah had refused Pannir any clemency.
Pannir, 32 was convicted on June 27, 2017 by the Singapore High Court of allegedly trafficking in 51.84g of diamorphine at the Woodlands Checkpoint on September 3, 2014 despite consistently pleading innocence.
"We know that in the New Malaysia, our government no longer approves of the death sentence for drug trafficking.
"The Malaysian government is Pannir and our family's last hope. We implore the Malaysian government to communicate and urge the Singapore government to halt Friday's execution. Please give Pannir and our family a second chance," she said.
Lawyers for Liberty adviser N. Surendran had asserted previously that there were several irregularities in the Singapore legal process that will see the Malaysian hanged to death this Friday even though the latter has strong grounds to obtain clemency.
"Once again, Singapore is planning to execute a mere drug mule, while the drug kingpins continue to ply their trade with impunity.
"More disturbingly, Pannir's final recourse of a clemency petition to the president of Singapore has been tainted with illegality and unlawful acts by the Singapore authorities," Surendran said.
The former lawmaker highlighted that Pannir had aided the Singapore authorities by providing critical information about one Anand, believed to be the mastermind who had duped Pannir into carrying a package containing drugs to Singapore.
However, he claimed the Singapore public prosecutor unreasonably denied the certificate of assistance to Pannir that would have enabled the court to sentence the Malaysian to life imprisonment instead of death. -
Malay Mail, 21/5/2019