#Extradition agreements may result in persons being sent back subsequently being charged tried and sentenced to death. Hong Kong, at present no extradition if it is political in nature and the requesting country need give an undertaking that the death penalty will not imposed...which is difficult if national laws provide for the death penalty.
In Malaysia, Australia is refusing to sent back convicted murderer Sirul Azhar because sending him back means that he may be sentenced to death. However, if Malaysia abolishes the death penalty, not just the mandatory death penalty, and commutes the death sentence of all on death row, the situation may be different...
Sending back anyone to Malaysia has the risk of death penalty. A person could be send back, but there can be no GUARANTEE that after return, he may end up being charged with some other offence that carries the death penalty, is there?
What about Detention Without Trial? Should countries being requested to send back Malaysians suspected of a crime have to worry about this - the fact that the said person may simply end up under Malaysia's draconian Detention Without Trial laws - hence the denial of a fair trial?
SOSMA - Well, this provides for the 'denial of bail', and the use of evidence not usually admissible in trial, and criminal procedure(not usually allowed in a fair trial) - Should the return Malaysians back to Malaysia on the request of Malaysia.
CONVICTED PRISONERS UNDERGOING SENTENCES IN MALAYSIAN JAILS - This is a totally different set of issues...the question of discrimination arises...better(or worse) prison conditions in the requesting country, different sets of conditions when it come to 'parole' proceedings or even Petitions to King/Sultan...this we may discuss at a later time?
Hong Kong is considering changing the law on transferring fugitives – so how are extraditions dealt with now, and why are there no deals with mainland China, Taiwan and Macau?
If proposal becomes law, there will be an extradition arrangement between Hong Kong and the mainland for the first time
But legal experts caution such a change could also affect existing arrangements with other jurisdictions
PUBLISHED : Wednesday, 13 February, 2019, 8:20am
UPDATED : Wednesday, 13 February, 2019, 9:39pm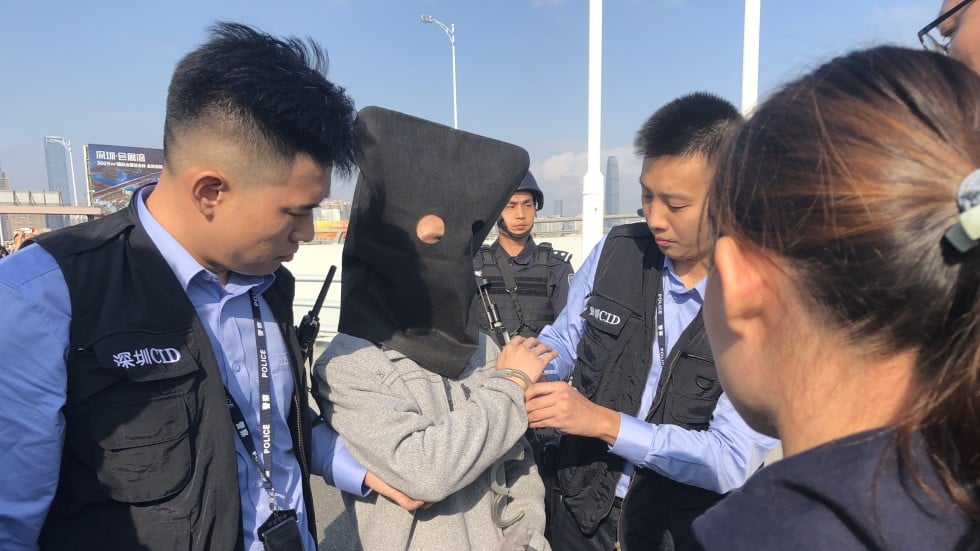 The proposal by the Security Bureau is the latest response to a high-profile case in Taiwan, involving a Hongkonger accused by the authorities there of murdering his pregnant girlfriend last February before fleeing to Hong Kong.
Chan Tong-kai, 19, was arrested in Hong Kong, but is facing charges related only to having his dead girlfriend's bank card, cash and other possessions.
He has not been sent to Taiwan, despite requests from the authorities there, because there is no formal extradition agreement between the two places.
If the bureau's proposal becomes law, there will be an extradition arrangement between Hong Kong and the mainland for the first time. Legal experts caution that such a change could also affect existing extradition arrangements with other jurisdictions.
How are extradition requests handled now?
Hong Kong has signed mutual extradition agreements with 20 countries, including the United States, Britain, Canada and neighbouring jurisdictions such as the Philippines and Singapore. Every new agreement negotiated between Hong Kong and a different country must be approved by the city's lawmakers.
When a foreign country makes an extradition request, Hong Kong's chief executive must decide whether to issue an arrest warrant.
Among other things, the city's leader must consider if the accused person's alleged action would be considered a crime in Hong Kong as well, and be satisfied that the case was not of a political nature.
If the crime the person is accused of carries the death penalty in the jurisdiction requesting extradition, the country must undertake not to impose the death penalty if the suspect is sent back.
If an arrest warrant is issued, the fugitive is allowed to oppose the order in a Hong Kong court.
Aside from extraditing wanted individuals, Hong Kong also provides criminal legal assistance to 32 countries, for instance, by handing over evidence, with decisions made by the secretary for justice.
Why is there no extradition to the mainland, Taiwan and Macau?
Hong Kong's two main laws governing the transfer of fugitives and providing help in criminal cases – the Fugitive Offenders Ordinance and the Mutual Legal Assistance in Criminal Matters Ordinance – have expressly excluded China. Macau and Taiwan are also excluded.
On a discretionary basis, mainland authorities have handed over to Hong Kong fugitives accused of violating the city's laws. But this has only been an administrative arrangement, and Hong Kong has never reciprocated.
The former deputy director of public prosecutions, John Reading SC, said the
major obstacle in reaching an agreement with the mainland was the death penalty in its legal system. Other signatories were prepared to give Hong Kong the assurance in their respective agreements that they would not impose the death penalty if a fugitive was extradited.
"I really can't believe that China would agree to give an undertaking not to impose the death penalty if somebody is to be extradited to China," he said.
Hong Kong and the mainland have moved closer in recognising civil and commercial verdicts by each other's courts.
In recent years, the mainland's judiciary has also raised the issue of the absence of mutual legal agreements on cross-border criminal cases. In 2017, the former vice-president of the Supreme People's Court, Shen Deyong, mentioned the issue in a speech in Hong Kong.
After the two sides signed a reciprocal arrangement on enforcing judgments in civil cases, a spokesman of the Supreme People's Court said there was a need to also "resolve the void in criminal legal assistance between Hong Kong and the mainland".
What is Hong Kong pushing for in changing the law?
The bureau has proposed taking a case-by-case approach for extraditions involving any place with which Hong Kong does not yet have an agreement.
The process will involve following all the requirements in the Fugitive Offenders Ordinance, which covers Hong Kong's dealings with the 20 countries with which there are extradition agreements.
To trigger the process, the chief executive will issue a certificate to request a provisional arrest, and that will be used to apply for an arrest warrant in court. The accused person may contest the extradition in court.
The government cited the case of the woman found dead in Taiwan last year to justify the need to change the law. Although her boyfriend was in custody in Hong Kong, there was no extradition arrangement to send him to Taiwan, where the authorities suspect him of murder.
Hong Kong hopes to amend the law before the Legislative Council's summer recess in July.
Are there any concerns over the proposed change?
Democratic Party lawmaker James To Kun-sun and Reading both warned that introducing the one-off extradition mechanism could affect how countries with extradition agreements view Hong Kong.
In contrast, he said, extradition agreements always relied on trusting the requesting country's legal system.
Pro-establishment lawmakers Starry Lee Wai-king and Regina Ip Lau Suk-yee dismissed concerns over handing over Hongkongers to mainland authorities, saying there were enough safeguards.
Law professor Simon Young of the University of Hong Kong, however, said the proposed change could be a breakthrough, so long as a fugitive received no less legal protection before being handed over.
The change could strengthen strategic cooperation with Taiwan and Macau in combating commercial and financial crime as well, he said.
Young pointed out that at present, if a criminal was suspected of moving assets to any of these jurisdictions, there was very little Hong Kong could do to recover them.
Can the rule change be retrospective?
Technically, the new law could apply to cases that happened earlier, although much depends on the actual wording of the bill.
"Usually the law is not retrospective, but sometimes, very rarely, drafters do make the law retrospective," Reading said. But such a move could attract opposition, he added, if the law was viewed as violating the basic principle of natural justice.
Young said the principle of not making the new law retrospective would not apply if an action such as murder was considered an offence in both jurisdictions. He noted that other existing extradition arrangements could apply in cases that happened before the change in the law.
But such request did not mean Lau would be jailed if Hong Kong did decide to hand him over to Macau.
"Under the existing Fugitive Offenders Ordinance, you cannot send someone to serve a sentence if he was convicted without being present at the trial," Young said.
"You would only send a person back to face trial."
Additional reporting by Ng Kang-chung